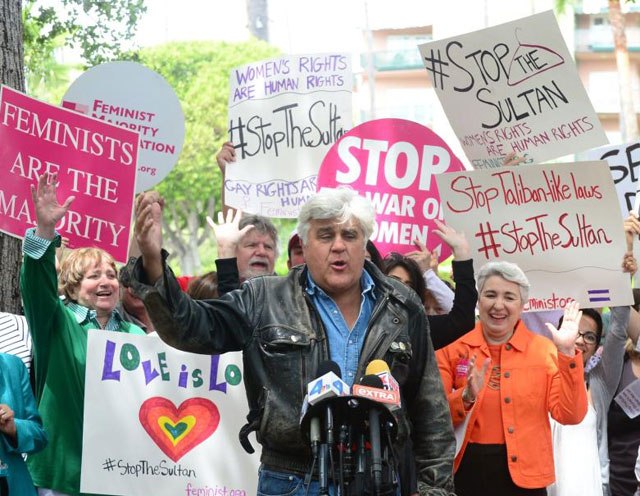 EU Parliament Condemns Brunei; Faces International Backlash From Businesses on Top of Celebrity Boycott
A new law went into effect on April 3rd in Brunei impacting LGBT, punishing adultery and homosexual sex with death by stoning. The penal code is based on Sharia law and Sultan Hassanal Bolkiah has been making continued aggressive strides to inhumane treatment of citizens since 2014.  Homosexuality has long been illegal in Brunei, an Islamic nation sharing the island of Borneo with Malaysia and Indonesia.
Companies, universities, and celebrities are making moves on a boycott of Brunei-owned services after the country introduced a law making homosexuality punishable by death.  Actor George Clooney was the first to lead the call for boycott of Brunei-owned luxury hotels in Hollywood and London.  
Despite resounding international condemnation, the country has reiterated its commitment to the laws. "Brunei Darussalam is a sovereign Islamic and fully independent country and, like all other independent countries, enforces its own rule of law," the office of Brunei's Prime Minister said in a statement ahead of the law's implementation. A growing number of major companies from all over the world, including the Financial Times, Deutsche Bank, and STA Travel have pledged to boycott businesses owned by the Kingdom of Brunei, while a movement to boycott hotels owned by the Brunei Investment Group is gaining momentum among individuals after notable celebrities have promoted the idea.
"No crime justifies an amputation or torture, let alone the death penalty' the EU parliament's vice president, Federica Mogherini, said.
Wagging the Dog from Economic Woes 
These laws represent serious breaches of international human rights law.  Thirty-six countries – including the United States, United Kingdom, Argentina and Australia – recently issued a joint statement expressing "profound dismay" at Brunei's penal code, which the United Nations has deemed "cruel and unusual."  The oil-rich nation of Brunei is grappling with economic crisis. Other countries have similarly whipped up hatred against LGBT people to distract the public's attention from economic crisis or corruption allegations.
But evidence suggests that boycotts are not the most effective way to influence foreign governments.
If Brunei's New Stoning Law is Enforced, Sanction the Sultan
Human Rights Watch has called for sanctions against Brunei.  In recent years, the United States and several other countries have adopted Global Magnitsky laws that can be used to impose financial sanctions, seize property and bank accounts, and impose travel restrictions on government officials implicated in the commission of gross human rights abuses. These laws are named after a Russian whistleblower, Sergei Magnitsky, who was killed in 2009 while in Russian custody, in retaliation for exposing corruption.
The United Nations may stand a better chance of curbing Brunei's behavior.
Brunei is a member of the Commonwealth of Nations, a voluntary association of 53 sovereign states, most of them former British colonies. Its biannual Heads of Government Meeting, set to take place in Rwanda next year, is a potential forum for meaningful dialogue about the state of LGBTQ rights across the Commonwealth of Nations, since Brunei is one of 35 Commonwealth countries that still criminalise consensual same-sex sexual conduct.
Prince Harry and Meghan Markle have made commitments to championing LGBT+ equality around the world and pushing the Common Wealth to progress on LGBT issues.  Discrimination against lesbian, gay, bisexual and transgender (LGBT) citizens is a 'Commonwealth problem'. In part due to the legacy of laws created by the British Empire which criminalised LGBT relations or identities, currently 37 of the 53 Commonwealth countries have legislation which still criminalises sexual or gender diverse people in some way.
How Can LGBT make a difference at the UN?
OutRight Action International fights for human rights for LGBTIQ people everywhere. OutRight works at the international, regional and national levels to research, document, defend, and advance human rights for LGBTIQ people around the world.  OutRight is the only LGBTIQ organization that has a permanent presence to advocate at the United Nations Headquarters in New York for progress for LGBTIQ people. Individuals can become members of Outright, stay informed, and support this lobbying at the UN.
Decriminalize LGBT Campaign
In over 70 countries around the world, LGBT people are criminalized. Those governments' insistence that we are criminals leads to violence, torture and murder. Some countries may have seen significant advancements in LGBT equality, but is it true equality when the rest of our community is criminalized? We must do better for our community, and we must actively work to remove all laws that criminalize LGBT people. The Decriminalize LGBT campaign was launched in an effort to raise awareness about these laws and to support ongoing decriminalization efforts. You can bring attention to these issues by using the hashtag #decriminalizeLGBT.