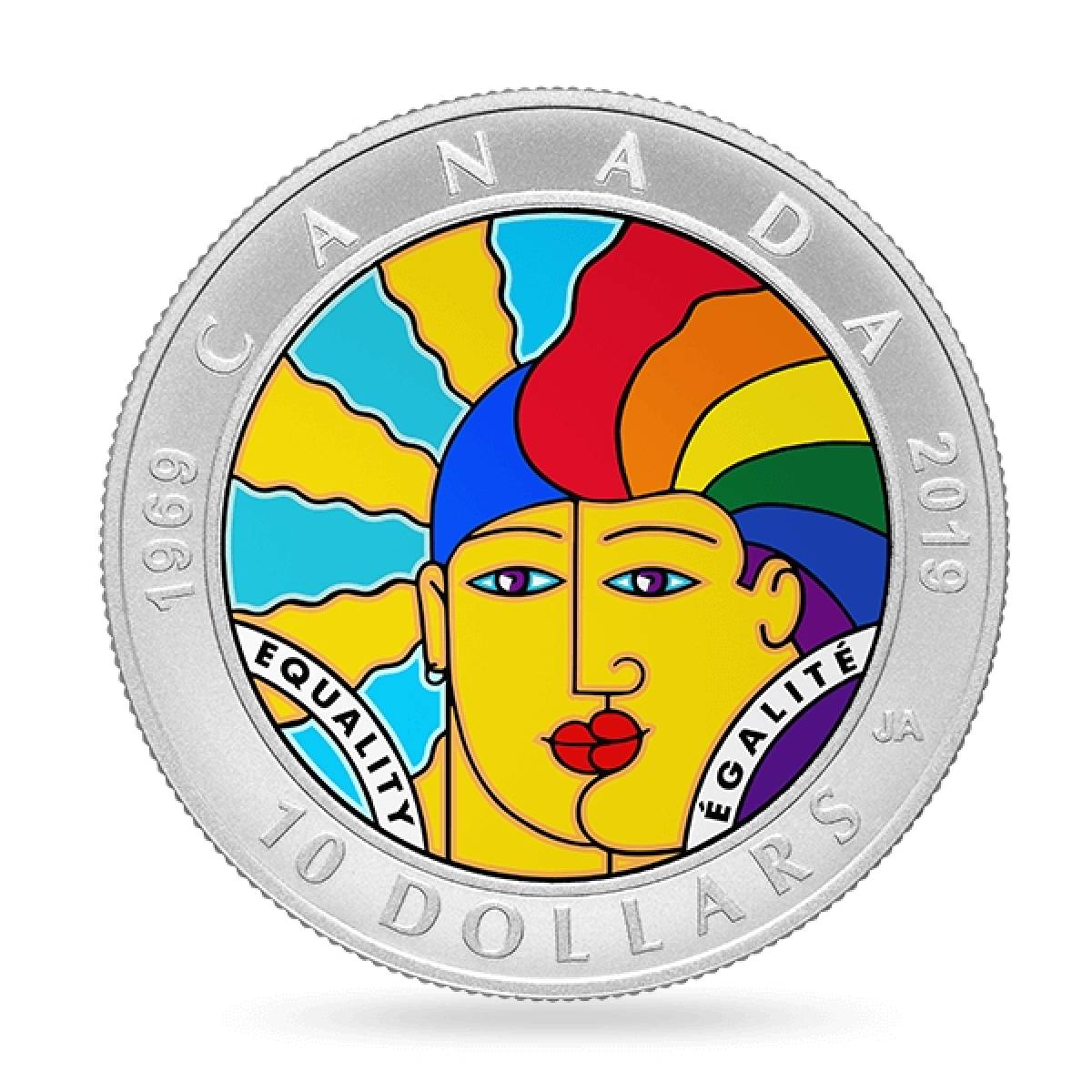 First Gay Dollar in Circulation, from Canada Mint, the Gay Loonie
Canada circulated the first "Gay Dollar", a new coin, "commemorating 50 years of progress in recognizing the rights of LGBTQ2 Canadians".  Federal Finance Minister Bill Morneau unveiled the new one-dollar coin that pays tribute to Parliament's passing of legislation that "initiated the decriminalization of homosexuality in Canada" in 1969.
In the early days of colonial Canada, homosexaulity was punishable by death and this was modified to ten years in prison. In the mid 20th century, Canada further criminalized homosexuality through the invented categories of "criminal sexual psychopath" and "dangerous sexual offender.".  Justice Minister Pierre Trudeau, campaigned to change these laws and was elected prime minster, ultimately passing Bill C-150 in May 1969, which is what this coin commemorates as well as the progress for LGBTQ2 equality since.
Morneau also acknowledged that many advocates argue the work toward LGBTQ2 equality remains large and critics who've said the coin's theme suggests the work to achieve equality is complete.  "They recognize, as we should all recognize, that we are not at the end of this path," he said. "We have much more to do."
What is the gay loonie?
On the coin, two intertwined faces are accompanied with the words "Equality Égalité". The two faces reflect gender fluidity and the gender spectrum, which "may belong to two individuals or they may represent different aspects of one's identity".  Some are calling it the "equality dollar".
Genderqueer, also known as non-binary, is a catch-all category for gender identities that are not exclusively masculine or feminine‍—‌identities that are outside the gender binary and cisnormativity. Genderqueer people may express a combination of masculinity and femininity, or neither, in their gender expression.
Gender fluid denoting or relating to a person who does not identify themselves as having a fixed gender.  Genderqueer is now estimated at 17% of the population or greater.
On the coin, two intertwined faces are accompanied with the words "Equality Égalité". The two faces reflect gender fluidity and the gender spectrum, which "may belong to two individuals or they may represent different aspects of one's identity", according to a news release.   There will be three million coins will be produced which is enough for 8% of the 40 million people in Canada and can fuel a public conversation about LGBTQ history. The new coin was designed by Vancouver-based artist Joe Average who dedicated his life to art when he was diagnosed with HIV in 1984.  Average has revealed that the image of two intertwined faces reflects gender fluidity and the spectrum of genders.
Where does the term loonie come from?
The Canadian one dollar-coin is an official tinder of Royal Canadian Mint.  The most common version in circulation of the one dollar coin is gold colored featuring the loon bird, an aquatic bird found throughout Canada, one one-side and Queen Elizabeth II on the opposite.   This coined is 11-sided curve similar to the Susan B Anthony dollar in USA which is silver colored.
Why does Canada use LGBT2 or LGBTQ2
"Two-spirit" refers to a person who identifies as having both a masculine and a feminine spirit, and is used by some Indigenous people to describe their sexual, gender and/or spiritual identity. As an umbrella term it may encompass same-sex attraction and a wide variety of gender variance, including people who might be described in Western culture as gay, lesbian, bisexual, transsexual, transgender, gender queer, cross-dressers or who have multiple gender identities. Two-spirit can also include relationships that could be considered poly.
Has gay equality been achieved in Canada?
Some historians and advocates say new gay rights coin commemorates a myth. In the 2010s, many of the issues facing the LGBT community revolved around youth, people of color, and trans people, with protection from bullying and gender identity becoming major causes.  Economic inequality as well as social stigma persists in Canada.  
York University historian Tom Hooper, says LGTBQ2 people faced continued criminalization over the decades that followed the legal changes.  The mint "could have consulted people who have knowledge of this history but they didn't," Hooper said, adding he hopes the agency will do so in the future.
Meanwhile, the leading LGBTQ2 rights organization Egale in Canada praises $1 coin that marks 1969 'turning point' for homosexual rights.
Rob Oliphant, Member of Parliament for Don Valley West, said "I was surprised by my strong emotional response to the Mint's new coin honouring the struggle for equality of the LGBT+ community in Canada, beginning with decriminalization in 1969 and continuing to this day. As a 13-year old it changed my life. And still changes lives today."
In 2013, USA made a similar celebration by remembering Harvey Milk on a USPS postal stamp.  The USPS has a long history of recognizing LGBT people. These stamps include honoring Josephine Baker, James Baldwin, Samuel Barber, Elizabeth Bishop, Isadora Duncan, Langston Hughes, Frida Kahlo, Edna St. Vincent Millay, Cole Porter, Gertrude "Ma" Rainey, Bessie Smith, Rosetta Tharpe, Andy Warhol, Walt Whitman, and Tennessee Williams.   The official recognitions can mean significant acknowledgement from governments and create dialogue in countries where even rights in legislation and courts are achieve but stigma remains.
Read more and how Canada sees LGBTQ2 economy future to GDP growth.
Read more about the work of the LGBT Foundation launching the LGBT Token.