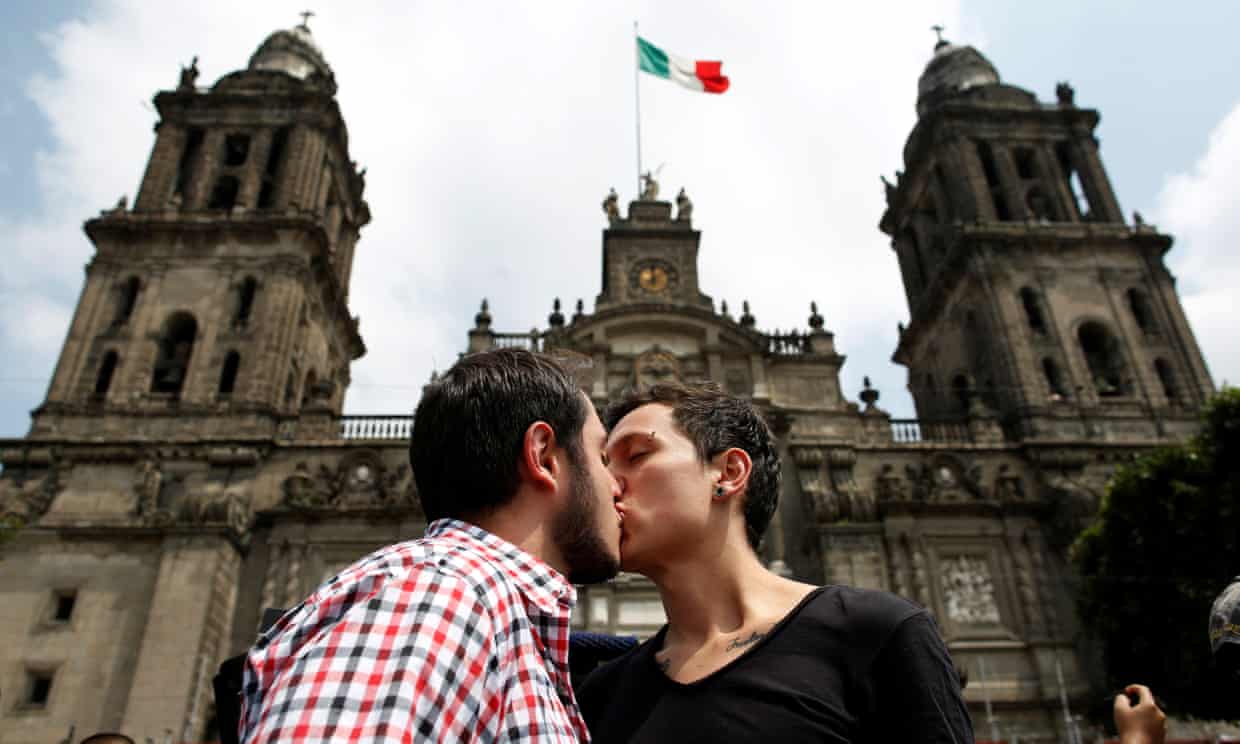 Corporations in Mexico Supporting LGBT in the Workplace Double, the Country is Leading Over the United States on LGBT Rights.
Mexico is a Latin American economic heavyweight and is leading on LGBT issues.   In 2017, its gross domestic product was $2.4 trillion. To contrast this, fellow NAFTA member Canada has a GDP of 1.6 Trillion. Few countries can measure in geography, putting Mexico on par with the landmass of Saudi Arabia; yet has five times the population of the Kingdom and Mexico is also a large producer of oil, equivalent to about one fourth of Saudi Arabia.
Mexico is an important trading partner for the United States, eight tenths of all exports go to the United States and that number has tripled since 1994–the signing of NAFTA.  Diplomatically, Mexico has the most trade agreements in the world with 44 countries.
Mexico led North America on Decriminalizing LGBT:
Mexico as is not just a leading economic power engine but also towards LGBT policies.  100 years before the United States ended Sodomy Laws in 1871. It wasn't until 2003 Supreme Court overturned anti-sodomy laws. Canada was also slow to follow.  Same-sex sexual activity has been lawful in Canada since June 27, 1969, when the Criminal Law Amendment Act came into force upon royal assent, however, the age of consent remains unequal in Canada.
Mexico further abolished most discriminatory legal distinctions based on sexual orientation long before the United States.   In 2003 the Mexican Chamber of Deputies unanimously passed a national anti-discrimination listing sexual orientation as a protected category, established a new agency to enforce the antidiscrimination law, and developed a national anti-homophobia campaign. The United States has no national anti-discrimination laws to protect LGBT people.  Mexico's constitution begins with its first article prohibiting discrimination based on "sexual preferences". The United States has no explicit constitutional protection for sexual orientation.
The World Economic Forum suggests that the newness of democracy in Mexico has helped make human rights a topic all citizens in Mexico can agree on.
Mexico Also Sees Migration Differently Than The United States:
In October, former President Peña Nieto started the "Estas en tu Casa" (You are in your Home) initiative. The Peña Nieto government worked with the United Nations to growing number of asylum claims at Mexico's southern border.  
"In the first few days of his young administration, President Andrés Manuel López Obrador proposed increasing work visas for Central Americans, signed an agreement with Central American governments for an integral development plan, and is in talks with the United States and Canada to invest in southern Mexico and Central America to stem migration. 'This is not a problem that can be confronted only with the use of force, with coercive measures, human rights must be guaranteed,' AMLO said last month."
Mexican Businesses Are Also Leading On LGBT WorkPlace Issues.
In its second year, the Human Rights Campaign's Equidad MX: Programa Global de Equidad Laboral assessment gave 69 Mexican employers the designation of "Best Place to Work for the LGBT Community." Last year's inaugural program included 32 major employers. The designation is based on non-discrimination policies, employee resource groups and diversity and inclusion programs, and public engagements supporting LGBT+ inclusion.
The 2019 Equidad MX Report analyzed key Mexican corporations and multinational companies based on three core pillars of LGBT inclusion:
Adoption of nondiscrimination policies;

Creation of employee resource groups or diversity and inclusion councils; and

Engagement in public activities to support LGBT inclusion.
"We are proud to witness the growth of LGBT-inclusive businesses throughout Mexico. This year's honorees keenly understand that the economy of the future is built with the diverse talent of today, and that LGBT inclusion is key to attracting and retaining the best workforce," said Deena Fidas, HRC Director of HRC Equidad MX and HRC Foundation's Workplace Equality Program. "Mexican multinational companies have enormous economies and employ thousands of people. This gives them the ability to influence change on this issue in a unique way, and we are delighted to recognize them for this commitment."
Los Cabos International Film Festival

3M, Petróleos Mexicanos (PEMEX)

The Boston Consulting Group

McKinsey & Company México

Museo Memoria y Tolerancia

Sodexo México On Site Services

Walmart de México y Centroamérica

Media Marketing Knowledge Group