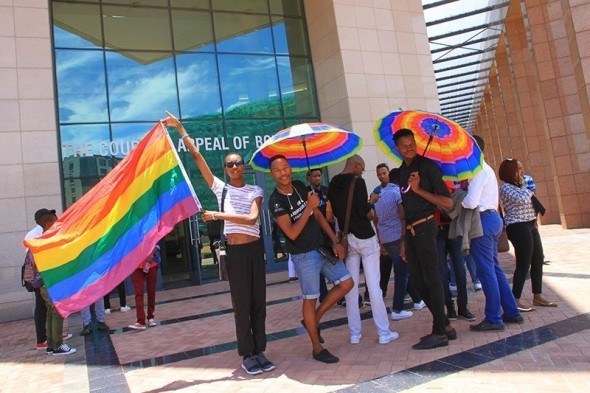 Botswana High Court Rules to Decriminalize Same-Sex Relations
Botswana ruled to decriminalize homosexuality, by ruling to remove remaining relics of its colonial past and to strike down section 164(a) and (c), and section 167 of the penal code which criminalize same-sex relations, or "carnal knowledge against the order of nature", and prescribe a prison sentence of up to 7 years for those found guilty. The court unanimously ruled that the provisions are discriminatory, against public interest and unconstitutional.
Botswana High Court judges stated that "a democratic society is one that embraces tolerance, diversity and open-mindedness" as well as highlighting that discrimination serves to hold back not only LGBTIQ people, but society as a whole by stating that "societal inclusion is central to ending poverty and fostering shared prosperity,", on 11 June 2019.
With this decision, the court has continued its record of trailblazing recognition of the human rights of LGBTIQ people in the country. In 2014 the High Court ruled that the government had to allow the registration of LEGABIBO, the country's leading LGBTIQ organization. In 2017, in two separate cases, one for a trans man and another for a transwoman, ruling that the refusal of the National Registration violated their rights to dignity privacy, freedom of expression, equal protection under the law for the refusal to allow changing their gender marker.
Botswana's anti-gay laws have been in place since 1965 and are a remnant of the country's British colonial past. But the sub-Saharan country has become slowly more tolerant over the years.  Bisi Alimi wrote on African history, "The idea that homosexuality is 'western' is based on another western import – Christianity. True African culture celebrates diversity and promotes acceptance"
Botswana joins a movement by countries to provide equality under the law and unburden laws from the colonial times.  Botswana joins Angola, Mozambique, India, Trinidad and Tobago and others in removing these laws.  Several countries still maintain discriminatory colonial-era relics, including places such as Singapore, Sri Lanka, Uganda and, recently Kenya's High Court ruled last month to maintain its barbaric law.  Martin Choo an activist in Malaysia, a former British colony, commented on the victory for Botswana "It is time we cast off the colonial yoke of repression that marginalised countless lives.  The legacy of normalisation and criminalising of sexuality has caused unnecessary harm for generations after the fall of Imperial Britain."
Gay men and other key populations such as trans men and women are disproportionately burdened by HIV infection. Laws that penalize same-sex intercourse contribute to a cycle of stigma, homonegativity and discrimination. In many African nations, laws criminalizing homosexuality are fueling the epidemic, as they dissuade key populations from seeking treatment and health care providers from offering it.
The judge's verdict will be life-changing for Botswana's LGBT community, particularly as it will allow them to access medical services without stigma. This is vital in what is one of the world's most HIV-infected countries, with a 22.8 adult infection rate.
"Punishing people based on their sexual orientation has a deeply negative impact that goes far beyond the risk of arrest and imprisonment. Criminalization contributes to stigma and gives free rein to discrimination more generally, leading to lesbian, gay, bisexual and, in some cases, transgender people being denied health care, education, employment and housing," said Michelle Bachelet High Commissionner on Human Rights on Botswana's decision to decriminalize today.
"Same-sex relations are a crime in around 70 countries. Today that number has decreased by one. This achievement is not only testament to the resilience and perseverance of the LGBTIQ movement in Botswana, but also a source of inspiration for LGBTIIQ movements across the continent and the world where such laws are still in effect. We commend the High Court of Botswana for upholding international human rights standards and taking this historic decision, and urge authorities in Botswana to swiftly take the necessary steps to ensure full implementation of the ruling, so that it translates into real change for LGBTQ people," said Jessica Stern, Executive Director, OutRight Action International.
Decriminalize LGBT Campaign
In over 70 countries around the world, LGBT people are criminalized. Those governments' insistence that we are criminals leads to violence, torture and murder. Some countries may have seen significant advancements in LGBT equality, but is it true equality when the rest of our community is criminalized? We must do better for our community, and we must actively work to remove all laws that criminalize LGBT people. The Decriminalize LGBT campaign was launched in an effort to raise awareness about these laws and to support ongoing decriminalization efforts. You can bring attention to these issues by using the hashtag #decriminalizeLGBT.
The LGBT Foundation is a not-for-profit organization with the mission to create the LGBT Token cryptocurrency and utilize blockchain technology to achieve equal rights and acceptance for all members of the LGBT+ community worldwide.